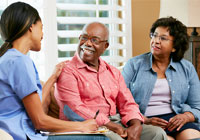 Apalachee's FACT Team (Florida Assertive Community Treatment Team) is a comprehensive community-based treatment program designed to help adult clients who are Leon County residents and are recovering from severe and persistent mental illness, succeed in the community.
The FACT Team was implemented in July of 2001 and is a 24/7 wrap-around outpatient mental health program that can serve up to 100 clients at a time and is based on a nationally recognized, evidence-based treatment model known as P.A.C.T. (Program of Assertive Community Treatment).  The purpose of FACT is to provide intensive treatment, rehabilitation and support services to clients in their homes, on the job, and in social settings. The FACT team is led by a licensed clinical social worker and an advanced registered nurse practitioner, both with extensive experience and training in working with individuals with severe mental illness. Team members include clinical social workers, psychiatric nurses, case managers, a substance abuse specialist, a vocational rehabilitation specialist, and peer specialists.
Eligibility is based on individuals with severe and persistent mental illness, who are experiencing significant functional impairments and individuals with a history of frequent or lengthy hospitalizations, substance abuse disorders, and an inability to meet basic needs.
The FACT program goals are designed to meet basic needs and enhance quality of life, support independent living, increase community involvement and activity, and to assist clients in obtaining employment, educational opportunities and volunteer experiences. The FACT program is able to financially assist clients in meeting their basic needs. The FACT team is available 24 hours a day to assist clients with a crisis or an emergency.