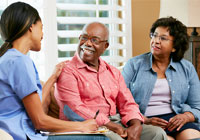 Our FACT Team (Florida Assertive Community Treatment Team) is designed to provide comprehensive and community-based help to individuals with serious mental health challenges who need more than regular case management or medication services can provide.
The FACT Team was implemented at Apalachee Center in July of 2001. The team provides  24/7 wraparound mental health services and is based on a nationally recognized, evidence-based treatment model known as P.A.C.T. (Program of Assertive Community Treatment).  The purpose of FACT is to provide intensive treatment, rehabilitation, and support services to clients in their homes, on the job, and in social settings. The FACT team is led by a licensed clinician and an advanced practice registered nurse (APRN), both with extensive experience and training in working with individuals with severe mental illness and co-occurring disorders. Team members include nurses, case managers, therapists, a substance abuse specialist, a vocational rehabilitation specialist, and a peer specialist.
The FACT program aims to meet an individual's basic needs, enhance the quality of life, support independent living, increase community involvement and activity, and assist clients in obtaining employment, educational opportunities, and volunteer experiences. The FACT team is available 24 hours a day to assist clients in a crisis or an emergency.
Services
The FACT Program at Apalachee Center offers a wide range of integrated services that all work together to help our clients.
Psychiatric Evaluations / Medication Management
Our APRNs (Advance Practice Registered Nurse) meet with clients monthly to assess, diagnose and treat symptoms with medications. They also monitor the non-psychiatric medications and work closely with the primary care physicians.
With a team of qualified care managers, FACT maintains a low client/staff ratio to better serve our population.
Registered Nurses (RNs) manage and administer medications, including injections. They also screen for other health problems and coordinate services with other providers.
With professionals who have gone through similar circumstances, we offer coaching and consultation services and recovery strategies.
Mental Health and Substance Abuse Treatment
Our counselors and therapists provide integrated dual diagnosis treatment,  therapy, outreach, and relapse prevention.
Vocational Rehabilitation Services
A dedicated vocational rehab specialist provides supported employment services, including job development, job placement and job coaching services.
GOALS
Lessen or eliminate the symptoms of severe mental illness
With the use of therapy, medications, and other services
Minimize or prevent episodes of acute mental illness
By helping individuals identify precursors, stressors, and symptoms
Increase the quality of life & independent living arrangements
By helping individuals achieve their goals and teaching life skills to help individuals live independently.
Improve social functionality
By working with individuals in the community
Improve employment relations
By helping individuals find employment
By helping individuals find and afford housing
Decrease or prevent hospitalizations
By working with clients every day to keep up with their treatment
ELIGIBILITY
Individuals who qualify for FACT services:
Have been diagnosed with mental illness/substance use, or co-occurring disorders, and are experiencing significant functional challenges
Have a history of frequent or lengthy psychiatric hospitalizations with their current level of outpatient treatment
Have difficulty taking care of basic needs due to mental health/substance use or co-occurring disorders
Are willing to work with FACT Team
Click on the form for FACT Referral.
Click here to download FACT brochure.
Please contact our FACT team today if you have any questions or are interested in services.
Office: (850)523-3333 Ext. 2368
Fax: (850)523-3344