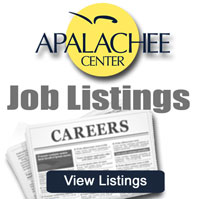 Here at Apalachee Center we are seeking excellent candidates to work with our outstanding behavioral healthcare teams providing quality care to the individuals and families we serve. We invite you to explore our rewarding career opportunities.
Candy Landry
Chief Human Resources Officer
Equal Employment Opportunity Officer
Equal Employment Opportunity and Affirmative Action
Apalachee Center, Inc. assures each applicant or employee an equal employment opportunity without regard to a person's age, race, color, sex, religion, national origin, disability, pregnancy, military/veteran status, marital status, sexual orientation, gender identity, genetic information or any other characteristic protected by applicable federal or state or local law.  Such equal opportunity shall apply to Center practices relating to recruitment, examination, appointment, training, promotion, demotion, compensation, retention, discipline, separation or other employment practice.  Any perceived act of discrimination should be reported to the Chief Human Resources Officer immediately at (850) 523-3333 ext.2216.
Apalachee Center, Inc. employs only U.S. citizens and lawfully authorized aliens who can provide evidence of their identity and employment eligibility as required by federal law.  Apalachee Center, Inc. does not tolerate violence or harassment in the workplace.  Apalachee Center, Inc. is an at-will, equal opportunity/affirmative action employer.  Drug-free workplace.  Serving Franklin, Gadsden, Jefferson, Leon, Liberty, Madison, Taylor and Wakulla counties.
For over half a century, Apalachee Center has been dedicated to helping the individuals and families of North Florida succeed in recovering from emotional, psychiatric, and substance abuse crises. These crises are often painful and frightening, and leave families and individuals feeling as if they are all alone and have nowhere to turn. We hope you will consider joining the Apalachee Center team!